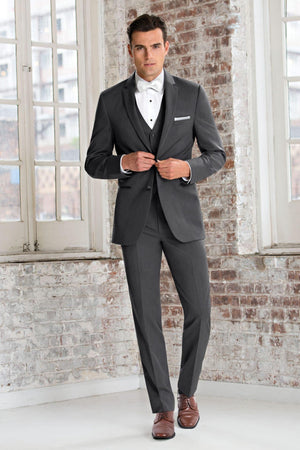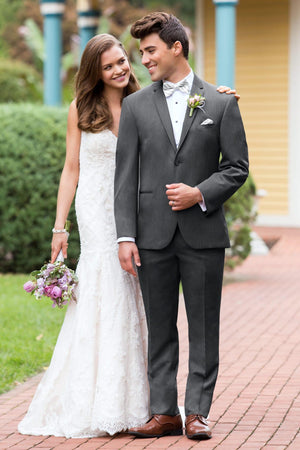 Ultra Slim Steel Grey Sterling Wedding Suit
A contemporary style with a trim and tapered fit, the Ultra Slim Steel Grey Sterling Wedding Suit is one of our slimmest fitting garments. Details such as the self-framed notch lapel, elegant purple satin lining and matching ultra slim fit pants with an adjustable waist, belt loops and buttons to accommodate suspender set this suit apart from the others. Pair it with a matching wool vest for a 3-piece look. Also available in slim fit styling to accommodate all the members of your party.
Fit
Trim and tapered styling, fits close to the body. The Ultra Slim Fit features our slimmest lapels, a trim and tapered silhouette, and a shorter jacket. Its slimming features will complement all the gentlemen in your party - including Big and Tall sizes.
Call Us Today To Book:
OUR SIMPLE RENTAL PROCESS
FIND YOUR STYLE
Start with a pre-styled package, then add character with your choice of accessories.
GET SIZED
Stop by one of our locations and our expert staff will help get you sized, perfectly.
PICK UP & RETURN
Simply pickup your suit or tuxedo for the big day and bring it back. It's that simple!
Garden City
27627 Ford Rd
Garden City, Michigan
+1 734-744-7933
garden@kravatmenswear.com
Monday - Saturday, 11 AM to 8 PM
Sunday, Closed
Dearborn
14935 W Warren Ave
Dearborn, Michigan
+1 313-581-1900
dearborn@kravatmenswear.com
Monday - Saturday, 11 AM to 9PM
Sunday, 12 PM to 5 PM