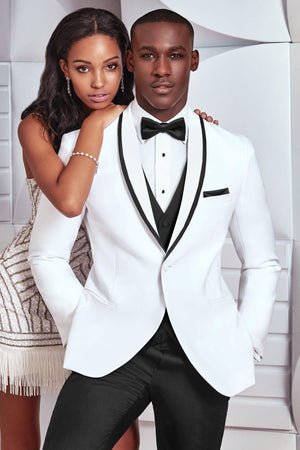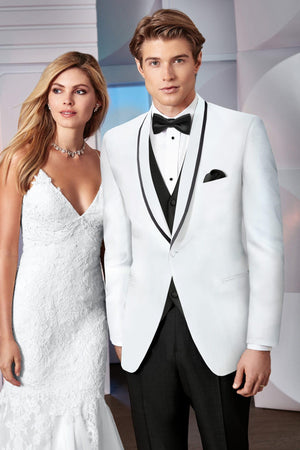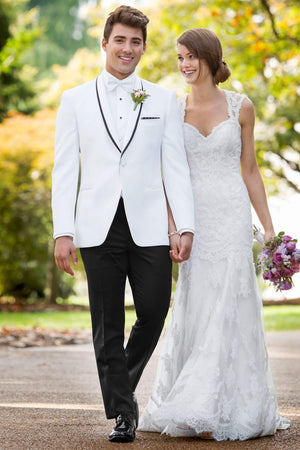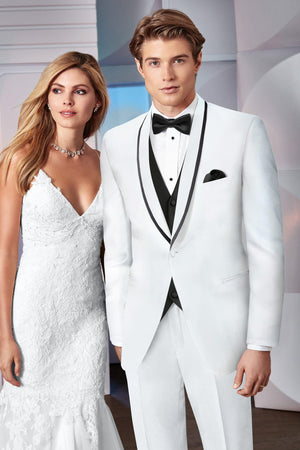 A modern twist on a classic tuxedo style, the Waverly tuxedo features a self shawl lapel edged in black satin and self-piped double besom pockets. Its ultra slim design is tailored to fit all body types - including big and tall sizes. Pair with a coordinating pair of ultra slim fit trousers for a classic dinner jacket look, or choose matching white pants.
Fit
Trim and tapered styling, fits close to the body. The Ultra Slim Fit features our slimmest lapels, a trim and tapered silhouette, and a shorter jacket. Its slimming features will complement all the gentlemen in your party - including Big and Tall sizes.
Call Us Today To Book:
OUR SIMPLE RENTAL PROCESS
FIND YOUR STYLE
Start with a pre-styled package, then add character with your choice of accessories.
GET SIZED
Stop by one of our locations and our expert staff will help get you sized, perfectly.
PICK UP & RETURN
Simply pickup your suit or tuxedo for the big day and bring it back. It's that simple!
Garden City
27627 Ford Rd
Garden City, Michigan
+1 734-744-7933
garden@kravatmenswear.com
Monday - Saturday, 11 AM to 8 PM
Sunday, Closed
Dearborn
14935 W Warren Ave
Dearborn, Michigan
+1 313-581-1900
dearborn@kravatmenswear.com
Monday - Saturday, 11 AM to 9PM
Sunday, 12 PM to 5 PM